LAWRENCE LESSIG
Lawrence Lessig Biography
Lawrence Lessig is an American academic, attorney, and political activist. Lawrence is the Roy L. Furman Professor of Law at Harvard Law School and the former director of the Edmond J. Safra Center for Ethics at Harvard University.
Lessig was a candidate for the Democratic Party's nomination for President of the United States in the 2016 U.S. presidential election but withdrew before the primaries.
As a political activist, Lessig has called for state-based activism to promote substantive reform of government with a Second Constitutional Convention. In May 2014, he launched a crowd-funded political action committee which he termed Mayday PAC with the purpose of electing candidates to Congress who would pass campaign finance reform.
Lessig is also the co-founder of Rootstrikers and is on the boards of MapLight and Represent.Us. He serves on the advisory boards of the Democracy Café and the Sunlight Foundation.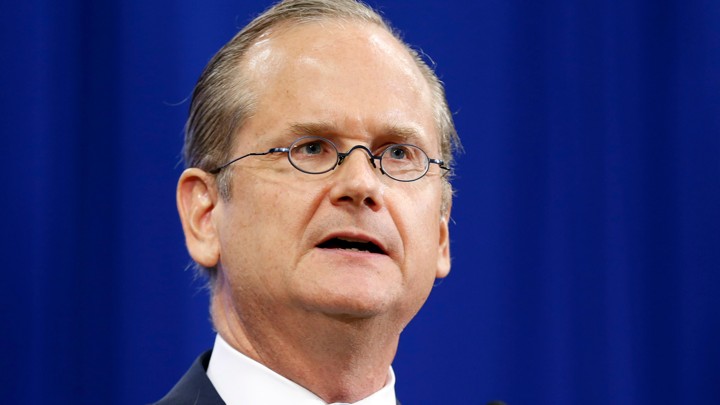 Lawrence Lessig Age
Lawrence was born in the year 1961 June 3rd and will be turning 58 years old in a months time, that is on June 3rd this year 2019.
Lawrence Lessig Family
Lessig was born in Rapid City, South Dakota, the son of Patricia, who sold real estate, and Lester L. "Jack" Lessig, an engineer. He grew up in Williamsport, Pennsylvania.
In May 2005, it was revealed that Lessig had experienced sexual abuse by the director at the American Boychoir School, which he had attended as an adolescent. Lessig reached a settlement with the school in the past, under confidential terms.
He revealed his experiences in the course of representing another student victim, John Hardwicke, in court. In August 2006, he succeeded in persuading the New Jersey Supreme Court to restrict the scope of immunity radically, which had protected nonprofits that failed to prevent sexual abuse from legal liability.
Lawrence Lessig Wife
Lessig is married to Bettina Neuefeind, a German-born Harvard University colleague. The two married in 1999. He and Neuefeind have three children: Willem, Teo, and Tess
Lawrence Lessig Career/Education
Lessig earned a B.A. degree in economics and a B.S. degree in management (Wharton School) from the University of Pennsylvania, an M.A. degree in philosophy from the University of Cambridge (Trinity) in England, and a J.D. degree from Yale Law School in 1989.
After graduating from law school, he clerked for a year for Judge Richard Posner, at the 7th Circuit Court of Appeals in Chicago, Illinois, and another year for Justice Antonin Scalia at the Supreme Court.
Lessig started his academic career at the University of Chicago Law School, where he was a professor from 1991 to 1997. As co-director of the Center for the Study of Constitutionalism in Eastern Europe there, he helped the newly-independent Republic of Georgia draft a constitution.
From 1997 to 2000, he was at Harvard Law School, holding for a year the chair of Berkman Professor of Law, affiliated with the Berkman Klein Center for Internet & Society. He subsequently joined Stanford Law School, where he established the school's Center for Internet and Society.
Lessig returned to Harvard in July 2009 as professor and director of the Edmond J. Safra Center for Ethics. In 2013, Lessig was appointed as the Roy L. Furman Professor of Law and Leadership; his chair lecture was titled "Aaron's Laws: Law and Justice in a Digital Age."
Lawrence Lessig Net Worth
Lawrence Lessig's 2019 estimated net worth is Under Review up from Under Review in 2018 with estimated 2017-2018 earnings salary and income of Under Review.
Lawrence Lessig Awards
In 2002, Lessig received the Award for the Advancement of Free Software from the Free Software Foundation (FSF). He also received the Scientific American 50 Award for having "argued against interpretations of copyright that could stifle innovation and discourse online."Then, in 2006, Lessig was elected to the American Academy of Arts and Sciences.
In 2011, Lessig was named to the Fastcase 50, "honouring the law's smartest, most courageous innovators, techies, visionaries, and leaders."Lessig was awarded honorary doctorates by the Faculty of Social Sciences at Lund University, Sweden in 2013 and by l' Université Catholique de Louvain in 2014.
Lessig received the 2014 Webby Lifetime Achievement award for co-founding Creative Commons and defending net neutrality and the free and open software movement.
Lawrence Lessig Books
1. Making Art and Commerce Thrive in the Hybrid Economy.
2. America Compromised.
3. THE FUTURE OF IDEAS; The Fate of the Commons in a Connected World.
4. REPUBLIC, LOST; How Money Corrupts Congress and a Plan to Stop it
5. FREE CULTURE; How Big Media Uses Technology and the Law to Lock Down Culture and Control Creativity.
Lawrence Lessig Podcast
Another Way, by Lawrence Lessig
Introducing: Another Way
Anyone paying attention can see that we're gearing up for a train wreck in 2020, as both political parties map out an increasingly partisan choice for America — as if we are just a nation divided, with nothing that we share in common.
S1E1: Aiming for Something Different
It's pretty clear how things are going to happen. In January, whatever the outcome in the 2018 election, Democrats are going to begin to vie in earnest to become the party's nominee for President. There'll be a gaggle of normal politicians on the left and in the middle, and a handful of billionaires.
S1E2: How Different Has Been Done
There have been critical moments in the history of America when we have come to see that something more than ordinary politics was necessary. Moments when citizens understood that the existing machinery of government was just not up to the task — and when the politicians did something fundamental to fix it.
S1E3: A Different (Kind of Control of) Congress
In the middle of 2016, the University of Maryland's Program for Public Consultation conducted a massive survey to measure America's satisfaction with their government. Surprise! Surprise! Not many Americans were very satisfied. Much more surprising was this: the reasons that Americans gave for their dissatisfaction were almost universally the same — regardless of age or sex or geography or, most amazingly, political party.
S1E4: A Different Kind of President
In 1864, in the middle of our "great Civil War," America held a presidential election. Lincoln was President. None were confident, especially his supporters, that he would be re-elected. Indeed without the gift of a Grant victory at Petersburg, it's pretty clear he would not have been reelected. The nation was exhausted by war. Most Americans were resolved to peace at any price.
S1E5: How America Beats Donald
I think the answer's pretty obvious: we would win by stealing Donald Trump's words while changing their meaning. The campaign to defeat President Trump and to reform this democracy must be led by candidates who make two simple promises: first, drain the swamp; second, make America great again.
S1E6: Why Different When the Same Is So So Easy
"But why," the Democratic politicians will insist, "why do we need anything more than simply elect Democrats? What's the need for a Reform Caucus when the Democratic Party is already committed to a platform of reform? Why complicate what could be so simple: a Democratic President with a Democratic Congress committed to passing the changes that reform obviously requires?"
Introducing Season 2
There's a scholar, an activist, a leader, a former Labor Secretary, a citizen, and a friend — Robert Reich — who has been trash-talking the idea of a convention to propose amendments to our Constitution. That fact really bothers me.
S2E1: How Constitutions Get Changed
The Constitution of the United States specifies the rules for its own amendment. Article V lays out those rules. An amendment must first be proposed and once proposed, adopted or, as the Constitution says, ratified. More than 11,000 amendments have been proposed in the 230 years since the Constitution was adopted. Of those, 27 have been ratified.
S2E2: That Conventions Terrify
This is Larry Lessig, and this is Episode 2 of Season 2 of the podcast Another Way. In the first episode, I described two ways that the Constitution allows that amendments to the Constitution might be proposed. Only one of those two ways of proposing amendments has ever succeeded. The second way — "a convention"—has never happened, though we've gotten close. That second way terrifies people like Robert Reich. In this episode, I describe why.
S2E3: Why Conventions Terrify
"This would be chaos." An Article V convention would be "chaos." Or so says the great Robert Reich in the video that has triggered this season of Another Way.
S2E4: Why Conventions Should NOT Terrify
So do we really need an Article V Convention? This should be the only real question that should trouble Americans just now. Do we need a different way to propose amendments to the Constitution? Do we need amendments to our Constitution at all?
S2E5: Why We Need A Convention
There's going to be a train wreck unless we act now. A train wreck for the convention movement, and hence, a train wreck for the only reasonable chance that we have to fix our broken Constitution, and hence, a train wreck for this nation.
Lawrence Lessig President
The 2016 presidential campaign of Lawrence Lessig, a law professor at Harvard University and co-founder of Creative Commons, was formally announced on September 6, 2015, as Lessig confirmed his intentions to run for the Democratic Party's nomination for President of the United States in 2016.
Lessig had promised to run if his exploratory committee raised $1 million by Labor Day, which it accomplished one day early. He described his candidacy as a referendum on campaign finance reform and electoral reform legislation.
Lessig dropped out of the Democratic primary on November 2, 2015, shortly after the rules for participation in the next debate were changed such that he would no longer qualify. He then considered other strategies to advance his reform agenda, including the possibility of an independent run.
His campaign platform was unique for its clear priority on passing one thing first: the Citizen Equality Act, a proposal that coupled campaign finance reform with other laws aimed at curbing gerrymandering and ensuring voting access